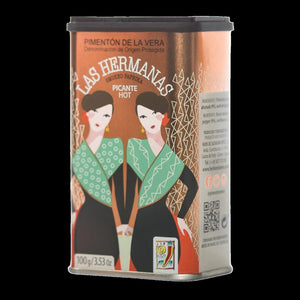 Spicy Pimentón de La Vera
Sale price Price $4.48 Regular price
Las Hermanas spicy La Vera paprika, with Protected Designation of Origin, in a 100 g can. 
A spicy touch to your dishes!
Details
This handsome can with the picture of Las Hermanas contains 100 g of the finest smoked paprika powder from Extremadura. The La Vera spicy paprika is made from ripe and dried peppers grown in the La Vera area and is perfect for those who desire intense flavors.
Add it to your stews, meats, fish, soups, and sauces for a bold and unique taste, or create a spicy salad dressing. This practical format will ensure the longevity of this product.